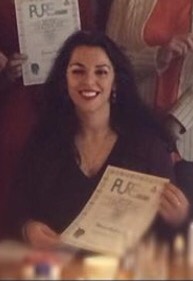 Here is some of the lovely feedback I have received from clients:
'I had a course of life coaching with Marina. I found it incredibly useful in three respects: first, in helping me to think about what my priorities were in life; second, identifying goals that I could work towards; and, finally, galvanising me into action. Marina brings a mix of life coaching techniques combined with really sound judgement, which allows her to focus in on what's most important and what you need to do to reach your goals. Marina can be challenging but what she's in the business of doing is enabling you to come up with the answers and she does that expertly. In my case, we worked on a number of financial and personal matters where I had felt stuck. What we came up with together were clear goals and simple steps to move forward on these, with Marina holding me to account to what I said I would do and helping me identify ways around obstacles. Over the course of my sessions with Marina I made really tangible progress and made significant changes in my life'.
Sean, London, Civil Servant  
'When I heard about the service that Marina offers I was not sure really what she could do to help me. But I did know I couldn't sort out my career problems by myself. I thought she'd just focus on how I could move from A to B career wise.  And that's all I felt I needed. Instead she gently, firmly and skillfully led me to the understanding that I didn't just have a career problem. I was just going through the motions letting outside circumstances dictate what I was doing with my life. When she asked me what I was waiting for? It galvanised me into action. I looked at every aspect of my life, family, finances and yes career too and I made changes. I want my life to end up taking me where I want to and choose to go. And Marina helped me to wake up to that fact. If that's what you want too, talking to Marina may help you get there'. 

Joyce, London, Financial Ombudsman
'Marina is great; a good listener with useful prompts, challenges and structure to help one think through life's big and small challenges. She is very committed and passionate about her work but never loses sight of you as an individual.' Nilesh, London, Management Consultant
'A note of sincere thanks for all the help you gave me through your incisive and intelligent Life Coaching Programme. It was a very positive experience and I have learnt a lot from you. I can't thank you enough.

 Gemma, Newbury, Chartered Surveyor'.